Bearing a suspicious resemblance to the pestiferous flocks of pigeons in Piazza San Marco, hundreds of art-eager critics, journalists, dealers, collectors, and anyone else who could get their hands on an invitation—or a hotel room—landed last week in the most remote and tranquil corner of this tourist-infested city to sneak a peek at the multi-media trends and marble-and-bronze traditions of the 49th Venice Biennale. For three days, we ducked in and out of the 30-odd national pavilions scattered around the idyllic gardens of the Giardini di Castello, each structure a monument to the faded social or artistic ideals of the past: Italy's enormous white fascist facade, the United States' tempered Jeffersonian dome, the clean lines and stark light of Dutch De Stijl. We stood in line for up to an hour for our free flashy catalogues, press kits and tote-bags, for our inaugural glasses of wine and breadsticks, or simply to gain entry into the more mediagenic and crowd-controlled exhibitions: Robert Gober's carefully crafted imitations of Styrofoam slabs, terra cotta plungers, gin bottles and newspaper fragments, Gregor Schneider's walk through a replica of his own home, or the Austrian group Gelatin's hallucinogenic light and sound show.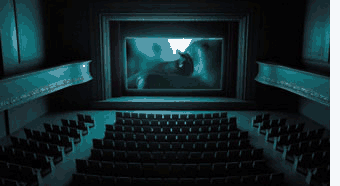 Patience paid off most notably at the humble Canadian Pavilion, a spiral, tree-house-like wood-and-steel hut tucked in the corner of the gardens, just beyond the pompous stairs and columns of the G-8 temples to Germany, Great Britain and France. In groups of 17, we were escorted inside the tiny pavilion, then told to enter the wider, taller end of a large wooden box. In the semi-darkness, we took our seats in the two back rows of what appeared to be an empty, old-fashioned movie theater, complete with balconies, red velvet seats, and a movie screen framed by wooden molding. As part of their experiential installation "The Paradise Institute," (www.theparadiseinstitute.com) collaborative artists Janet Cardiff and George Bures Miller constructed this miniature theater in perspective so as to trick the audience into believing themselves inside a life-size cinema. Sound played similar tricks on our ears once we put on the headphones attached to the seats. Muffled voices whispered "excuse me" and "thank you," as bodies shuffled by and took their last-minute seats. A cell phone beeped a tune, a purse was unzipped behind my head, and a woman's voice responded in Italian, saying she couldn't talk because she was in a movie theater. Another woman (the voice of Cardiff) chatted with her date as she munched on popcorn next to me. But I couldn't smell any popcorn or melted butter, and when I looked around, I saw only people, like me, wearing headphones, staring at the screen, listening, watching, trying to distinguish between reality and Memorex. Filling the theater with phantom spectators, these convincing surround sounds, which were recorded binaurally (i.e., by using miniature-microphones placed in the ears of a human head or dummy) for that extra dose of hyper-reality, mingled with those of the character in the 12-minute digital film playing simultaneously on the tiny screen. With its minimalist story line, this black-and-white WWII film noir, complete with Marlene Dietrich cabaret songs, allusions to torture, footsteps, and ominous shadows in dark alleys, was just enough to suggest the experience, both intimate and shared, of watching a movie, without turning us into passive spectators.
With a subtlety and sophistication that is all too rare at this Biennale (where sound and video are as omnipresent as pigeon turd), Cardiff and Miller guide participants on a multi-layered perceptive journey during which we are invited to question our collective experiences of the cinema while simultaneously creating our own personal theaters of illusion, inspired by what we hear, see, and remember. If the line in front of the Canadian pavilion hadn't been so long, I would have gone back to "The Paradise Institute" again and again. Though considering the vivid imprint it left on my memory, once was enough. (Could repeats be partly responsible for the dulling (dumbing)-down of perception and, subsequently, of memory?) Instead, I took my free drink ticket out to the garden in back, sat, and watched as the blues and pinks of the setting sun on the lagoon worked their own seductive magic. Soon another voice began whispering insistently in my ear, something about all the art I had yet to see, hear, and do in Venice. Against the counsel of my weary feet and legs, I grabbed my catalogue-laden tote bag and set off for exhibition space number two: the Arsenale.
A 15-minute stroll through the Venetian side streets (the only sign of actual Venetians was to be found in their clothes blowing dry in the breezy sunshine above) brought me from the pavilions to the massive, cavernous spaces of the Arsenale, a recently renovated cluster of brick warehouses and shipyards that were christened the new basilicas of the Biennale at the last exhibition in 1999. Together with the sheer size of the buildings, the variety of works inside do more than hint at how the tiny word "art" has been stretched into an all-encompassing big top. Unlike the garden pavilions, which show off the work of one or two artists from each country, the Arsenale is more like a global group show, one which curator Harold Szeemann has labeled—for the sheer impossibility of finding a more unifying theme in this circus of feathers, steel, photographs, plastic, poetry and virtual reels of video—the Plateau of Humankind.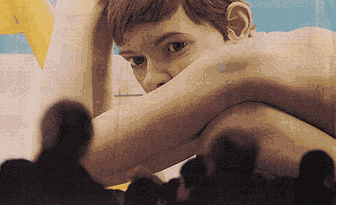 Only a few works successfully filled the massive emptiness of the Arsenale architecture while simultaneously appealing to media-weary eyes and imaginations. Australian Ron Mueck's 30-foot-tall, incredibly life-like sculpture of a young boy with eyes of cautious innocence, crouching in the enormous atrium, could be the David of the new Millennium. Established and highly-funded in contrast to most of the artists here, Richard Serra proves himself once again as the master of mass with his twin spirals of steel, whose interior curves and angles make you giddy with weightlessness. And the Brazilian sculptor Ernesto Neto simply delights the senses with his enormous hanging udder sewn out of white netting, teats rubbed with the same exotic Indian spices that were once traded on the docks outside. Though huge and suggestive, these sculptures are paradoxically too one-dimensional (and uniquely personal) to fit in with the multi-media trend pulsating through the exhibition as a whole.
It may take a month to really see and understand all the artwork on exhibit here. But a few minutes on the Biennale's plateau are enough to see that despite the consciousness-raising motives of today's "social-impact art," the museum has been transformed into a multiplex sound-and-image show, a glittery amusement park for the cultured masses.
In the long, tall halls of the Corderie, the same 16th century Sansovino-designed building where, centuries ago, ropes (corde) were once fabricated, fashion appears to be winning in a tug-of-war with history, responsibility and, I dare add, beauty. Evidence of the victory of latest trends in "art" are the seemingly endless sound and video installations which play continuously in claustrophobia-inducing mini-theatres lining the halls, between the sculptures, photographs, and the replicas of a New York City ghetto. Because of the preview crowds, much smaller than those to come, it was more of a challenge to push and squeeze my way into the gallery theaters than to grasp the meaning of the works, some of which toy with concepts of colonialism by adding a soundtrack and bright colors to old documentary footage of Africa or India; others bring us face to face with post-modern nightmares (alienating urban landscapes, deformed or fragmented bodies) that recall popular computer games like Doom, a favorite of the Colombine boys. Atom Egoyan and Juliao Sarmento's film took the Plateau's video experience to the extreme with the forced intimacy of their short film, Closer, projected in a curtained-off corridor less than three feet wide.
Compared to the more traditional mediums of sculpture and photography, which, even here, one can easily experience undisturbed for hours on end, and to the more familiar experience of watching a film in a theater (respectfully preserved by Canadians Cardiff and Miller), the majority of these video installations can only be experienced in a fragmentary, incomplete (and, therefore utterly "postmodern") way.
Because of the small spaces, the big crowds, and the urge to move forward and see what awaited me around the next corner, and the one after that, I exited each theater of this Plateau of Humankind feeling disappointed and unsatisfied. Perhaps this is the clearest sign of art imitating life. Call me old-fashioned, but I still yearn for transcendence, and I still believe that without an anchor of sorts (be it in form, artistic or cultural tradition, or personal vision), even the most original and initially surprising work of art risks blowing away in the wind. Even flying trapeze artists need a platform from which to launch themselves into the air.
Though the questions have (justifiably) multiplied, one thing is for certain: Thanks to my peek under the Big Top of the Venice Biennale, I now know that the next time I'm craving loud, techno music, flashing lights, tight throbbing crowds, and a dose of the latest fashions, the disco is not my only option.


---
More Best of Gadfly:
Art:
Anais Nin
Music:
Robert Goulet

Karma Is on My Side
The Artist Not at All Known as Prince

Online Band-aid

Merle Haggard

Filling Up on Ochs


Issues:
Marijuana as Medicine

Footnotes From the Book of Job
Great Generation Hoax

Overnight in Terre Haute

Abbie Hoffman


Check back Thursday for selections from our
Book and Film sections.