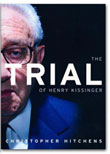 A woman—a fan—wanted to pin a "medal for courage" on his rumpled sport jacket. Hitchens politely demurred, then made a concerted effort NOT to be stuck with the thing, an antique badge festooned with an absurdly large and ostentatiously gilded blue ribbon, the sort routinely given to hatchet men and hired assassins by despots and dictators. Journalists with cameras were present, and Hitchens wanted to limit any possibility that he was pandering to what he'd, just moments before, excoriated as a "morally lax and tawdry celebrity culture that judges actions by the reputations of people rather than the reverse..."
"What I have done didn't require courage," he said, pausing to collect his wrath, which at any given moment can be prodigious. "To not say anything would be cowardly, but to speak up when you know the truth is simply what must be done."
This uncommon appeal to common decency is in keeping with Hitchens's modus operandi over the past two decades as "Minority Report" columnist for The Nation; a Washington editor of Harper's; contributor to Vanity Fair, London Review of Books, New Left Review, Dissent and the Times Literary Supplement; and an author of numerous books, both scholarly and polemical. He, like his spiritual forebear George Orwell, has an unerring eye for cant on either wing of the political spectrum and, as Orwell put it, "a power of facing unpleasant facts."
One of the most unpleasant facts Hitchens has ever had to face is the "lonely impunity" of Henry Kissinger. It, he says, "is rank, smells to heaven, and if it is allowed to persist, then we shall shamefully vindicate the ancient philosopher Anacharsis, who maintained that laws were like cobwebs: strong enough to detain only the weak, and too weak to hold the strong. In the name of innumerable victims known and unknown, it is time for justice to take a hand."
Contrary to his growing reputation as "an attack dog," Hitchens makes it clear that writing about Kissinger is as painful and necessary as passing a kidney stone. In other words, somebody has to do it, and he has merely chosen to pick up the gauntlet that was dropped along the way by his colleagues in the journalistic trenches. Indeed, one of the many things that deeply troubles Hitchens is how the press has failed over the years to do its job. As he told one reporter in front of the bookshop, "I would be much happier writing about Oscar Wilde. I really would be."
Because Hitchens spared no invective in the doing, his book is a world-class polemic in which he argues for a war crimes tribunal to be convened in The Hague, with Kissinger in the hotseat. It is with such venom coursing through his veins that Hitchens has come to Washington, Connecticut, to dispense the only sort of justice left in his quiver: poetic justice.
He has come to Washington, Connecticut—a village that is virtually unchanged from the day, or night, when George Washington slept here (and, of course, for whom it is named)—with one goal in mind: to finally meet Henry Kissinger.
It can't be that hard, can it? After all, Kissinger lives only a few miles away, in the tiny rural enclave of Kent. Not only that, but the former Secretary of State and National Security Advisor has agreed, on this day, to be the guest of honor (the "local luminary," as they are billing it here) at a library fundraising cocktail party that will take place just up the street from the bookshop where Hitchens is holding court. Tables at the fundraiser sold for $1,000. And because the opportunity to suck up to "Doctor" Kissinger is too rich to not RSVP, all tables sold out the week before. No room for crashers or last minute planners.
Hitchens himself has gone to some trouble to be here. His wife is facing surgery in a California hospital, and he has—at her encouragement—taken a red-eye flight east to get his man.
Kissinger had, or so he thought, left nothing to chance with this little library shindig. Ahead of time, he had insisted that all the names of those invited to this dinner be sent to Kissinger Associates in New York, the financial institution to which he lends his figurehead. For someone who was given the Nobel Peace Prize, Kissinger is one paranoid fellow.
This is the man, Hitchens reminded the people at the bookshop, whom Nixon admired "for his ability to betray and keep it secret."
Hitchens had planned, after he finished at the bookshop, to walk up the street to a reception held by friends in his honor, then to find his way over to the luminary's dinner. Despite his dark mission and preoccupation of worry over his wife, he is among kindred spirits, including his hosts for the night, Joe Mustich and Ken Cornet.
"I had wanted to have Christopher up earlier in the week to give a talk at the library," said Mustich, who has organized cultural activities in the Litchfield hills community for years. "But I got the OK to host a luminary dinner with Hitchens as guest for today, so I decided to schedule the signing at the shop on the same day. But they didn't quite know who Hitchens was at the library, I'm afraid, and when they found out, people started to get nervous."
Soothed by the congenial mix of people who'd come out on a postcard-perfect May day to see him, Hitchens soon calmed down over the contretemps over the medal, took another swig from his bottle of water, another hit off his cigarette, and laughed uproariously at the sheer pretense of it all.
When he learned that the medal the fan was proferring was actually a vintage ribbon from an agricultural fair, Hitchens decided that it was okay to be pinned.
"A bovine medal I will accept," he said. "I am a mad cow, I suppose, or rather one who is completely sane."