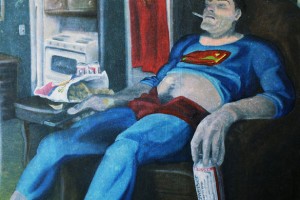 Superman stole my jelly roll.
He took it right out of my lunch bag then sat next to me.
"Superman, that's mine," I said.
"Sorry, toots," he said. He halved my jelly roll then pulled a pack of Decade Red out of his sleeve, lazer-visioned a cherry onto on of the cigarettes, and then he killed it in a single breath.
"You can't smoke in the lunchroom, Superman."